Ireland Biking
Biking in Southwest Ireland is an experience of a lifetime. This is not just my opinion but also the opinion of the wonderful guests whom we have had the pleasure of being host to over the years. It is our pleasure to be your hosts , to share our love and knowledge of this region, its history , culture with you as we all bike together. I do hope you find the time to research biking in this region. I will certainly do my best to help you with info on this site and more should you wish to contact us. If you do decide to explore this region by bike you will have a most wonderful experience.
Our bike tour route selected from years of personal travel in the region and months of research and debate is packaged for you, our guests.
We have blended a mixture of inland cycling (along river valleys and gentle passes) with coastal and lake shore bike routes. We know you will find it most exciting confident that its memories will last you a lifetime.
The bike route chosen leaves Blarney and takes you to Killarney after six days of biking this most enlightening region. The packages all have the same route but accommodations are tailored to suit individual preferences so you need to contact us letting us know what you want and we will design the package to suit you.
For more info. You can email me at soleary@trail-seekers.com
or phone us at 00353214870919 Irish number.

While our main interest is in being host to small groups, we ,since we are cyclists, like to help all those travelling by bike. We hope that anyone who is not interested in our guided tours also finds useful information here and if not do feel free to contact us. We will be delighted to help.
MORE INFO.
Ireland has very few bike trails but as we know this region so well we were able to chose a route that includes as much non public road as possible. When on public roads we sought out ( hence our name "Trail Seekers" ) as many back roads as possible.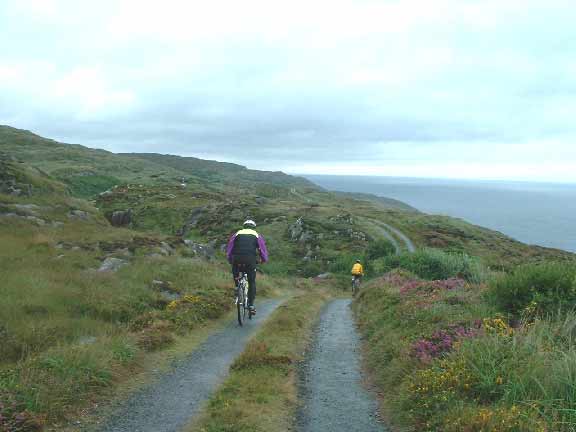 Many cyclist (most especially self led) come to Ireland thinking that they can travel the coast. If you look carefully at a detailed map you will see that this is a lot more limited than one might think. Consider the scale of the map. Once you are a few hundred meter ( as most roads are ...minimum)) from the sea you will not be able to see it.
Again we have chosen a route that on one of the days allow us to bike right on the shore for much of the day.
Cycling along lakes and valleys is also very pleasant
We chose a biking itinerary that took advantage of the wonderful changes in scenery that one can experience here over short distances thus making each day a unique biking experience. I personally think that this is what sets us apart from other biking tours.